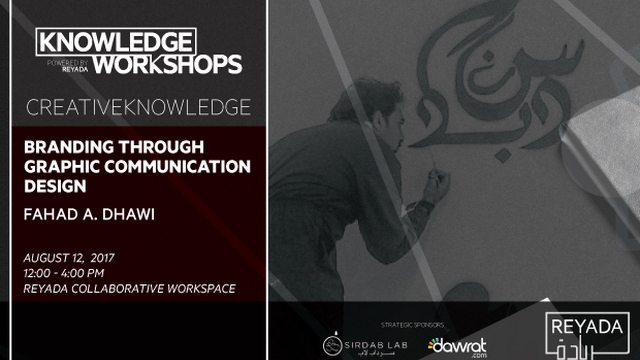 Branding through Graphic Communication Design
مغلق
لا يوجد فترات متاحة لهذه الدورة.
نبذة عن الدورة
Course Overview:
Are you a designer, typographer, employee or a business founder? Whether you are an advanced graphic designer, or an individual who has no or less experience in graphic design and would like to either expand your horizons or develop your design skills, this workshop is for you!
The workshop will help you expand your understanding of branding, designing and advertising for business projects. The session will discuss the significant role of graphic communication and guide you through the basic steps of creating great creative logo designs, package designs, corporate identities and other different types of media. You will learn and understand how to start a creative and a dynamic design project that focuses on both the aesthetic and functional concerns for effective communication, advertising and marketing purposes. Whether to gear up a personal project, rebrand an existing product, a company identity, or establish your new business, this workshop will help you explore a broad range of design techniques and elements. Starting with understanding the 'Harmonization' of Arabic and Latin (English) scripts through bilingual typefaces to the use of different graphic design elements and techniques - including balance, sketching, choice of typefaces, colors, size, shape, weight, texture, value, lines, contrast, text arrangements, paper quality and the selection of appealing visuals. You will be guided through an extensive variety of design-based theories and contextual literature to help you build your on-going projects or assist you in establishing your futuristic design projects with a clear focus and a design-related strategic framework.
Note: kindly have Adobe Creative Suite installed on your MacBook (if applicable) for a more engaging session - who knows, you might learn few designing tips along the way!
Biography
Fahad A. Dhawi is a current Ph.D. candidate at Central Saint Martins. Dhawi received his B.A in Graphic design (Cum Laude) in 2009 with a minor in Communication from the American University of Kuwait. He later received his M.A in Graphic Design (Distinction) in 2012 from Coventry University in the UK. Dhawi's on-going practice-based research project highlights the importance of Arabic Typography and Graphic Communication within education and how teaching Arabic can be further 'simplified' through a new creative pedagogy approach. His current research employs an expressive approach to facilitate visual language learning and explores harmonious relationships between visual design and language through bilingual (Arabic-English) communication design.
Contact
Instagram: @PhahadAli
Twitter: @PhahadAli
Strategic Partners: Dawrat and Sirdab Lab
---
دورات مشابهة
تنظيم

Reyada is a collaborative workspace aimed at providing for the rising generation of innovative thinkers. Our workspaces are designed to promote connectivity, enhance creativity, and aid the growth of its …
---
{{ dialogMsg }}
OK