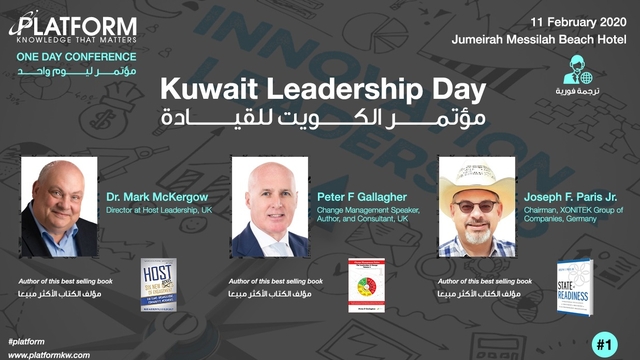 Kuwait Leadership Day Conference
مغلق
لا يوجد فترات متاحة لهذه الدورة.
نبذة عن الدورة
Kuwait Leadership Day
11 Feb. 2020 - Jumeirah Beach Hotel
Dr Mark McKergow Director at Host Leadership, UK Peter F Gallagher Change Management Speaker, Author, and Consultant, UK
Joseph F. Paris Jr. Chairman, XONITEK Group of Companies, Germany
Effective Leadership Leading People, Teams, and Projects
http://www.platformkw.com/
Host Leadership: Leading as a host, not a hero How to build engagement and responsiveness using a new (yet ancient) leadership metaphor When we think about leading teams, it's easy to look too hard at the leader as an individual. What matters more is the relationship between the leader and the team. Mark McKergow will speak about the new yet ancient metaphor of leading as a host, not a hero (or indeed a servant). Building on thousands of years of host-guest relationships, Mark will share his research into how great hosts can lead, and how leaders can learn to host. Thinking of the team as your guests is a rapid and effective first step towards engagement and progress. The metaphor of hospitality as leadership is particularly relevant in Arabic cultures, where hospitality first emerged in the desert Bedouin peoples thousands of years ago. Mark will share a little of how hosting has already played a part in the development of humanity, and how we need to reclaim and relearn these lessons in the 21st century. The talk will be full of practical ideas including Mark's model of the Six Roles of a host leader, and the four positions for a host leader to take while they are at work. Acting as a host helps to build relationships and engagement with your people, which in turn is the key to performance and results. Bring along a real-life leadership challenge and Mark will help you expand your thinking about it and build some concrete next steps during the presentation.
Bio: Dr Mark McKergow is an international speaker, teacher and author. His work in developing Solution Focused practice for coaches and organisational settings led him to co-author the best-selling The Solutions Focus (now in 11 languages) as well as helping to found the SOLWorld community and SFCT/ASFiO professional bodies. His latest book is Host: Six new rules roles of engagement for teams, organisations, communities and movements, the result of a decade of research into post-heroic leadership. He is based in Edinburgh, Scotland, has been a visiting research fellow at the University of Hertfordshire and plays the saxophone.
The Leadership of Change 10 Organisational Change Management Lessons Learned We are in the middle of 4IR and change disruption is the order of the day. Rapidly changing customer buying habits, access to new technology, and social media accelerate the way organisations need to adapt to change to remain competitive or even survive. After delivering change, transformation, business and process improvement projects for over thirty years, Peter has identified ten key challenges organisational leaders face while delivering change. This keynote discusses these key challenges, providing insights and solutions. The keynote covers: Change Definition, Sponsorship, Previous Change History, Detailed Change Plan, Communication, Readiness, Managing Resistance, Developing New Skills and Behaviours, Adoption, and Sustaining and Closing the change. "To achieve future organisational change management success, analyse previous change history to mitigate previous weakness and enhance future success" ~ Peter F Gallagher
Bio: Peter Gallagher is an organisation change management and improvement expert, author, speaker, consultant and trusted adviser to C-suites. Peter is a highly accomplished, accredited and skilled global strategy implementation executive, with a proven track record of transforming and improving the world's largest and most successful organisations in over twenty countries. He has Big Four external consulting and internal consulting experience, has held senior roles in industry and has boardroom experience as a NED over a thirty-year career. Companies he has worked for include: EY, Shell, NCR and Bombardier Aerospace. His clients include EQUATE, Saudi Aramco, ADNOC, Aegon, Lloyds, Boeing and Rolls Royce. He is the author of The Leadership of Change Volumes 1 – 3: Change Management Fables, Change Management Pocket Guide and Change Management Handbook.   State of Readiness The Organization: The competitive advantage of the 20th Century company went to the companies who had a command of process excellence. But the enemy of the 21st Century company is time. We live in a world of disruption – whether technology, competition, globalization, and geopolitical – that is occurring at an accelerated pace from just a few years ago. It will not be the company facing disruption or causing disruption that will prevail, but rather the company that is in the better state of readiness that will prevail - the one that can increasingly see the opportunities and threats further beyond the horizon and can devise and deploy decisive responses more quickly. To win, we need to understand what our existing capacities and capabilities are (and where we lack), and we have to continually hone our ability to engage such that success is as pre-ordained as is possible. In this session, we will explore the importance and construct of an organization that is nimble, understands its capacity and capabilities - as well as its weaknesses and limitations - and is proficient in accelerating the decision-making process and reacting to changes in circumstances as being the strategic advantage. The Leadership: The Captain of the ship is responsible for getting the ship and all souls aboard safely from where it is to where its destination. And the Ship's Crew are responsible for successfully executing their duties from within their functional smokestacks. But the Ship's Steward is the advocate of the ship - ensuring that the efforts of the crew are aligned to the successful completion of the journey and the Captain understands and commits to the needs of the Crew for achieving that success. Similarly, the role of the Steward of a program is to be an advocate for the Operational Excellence or Continuous Improvement program - ensuring alignment and commitment achieved and maintained and that communication protocols ensure this is sustained. In this session, you will learn; • The roles and responsibilities of the Ship's Captain (the Executive Leadership) and that of the Crew (the Departmental Leadership and Practitioners) • The roles, responsibilities, and benefits of stewardship as advocate of a program • The importance and construct of effective communication protocols Bio: Joseph F. Paris Jr. is a recognized thought leader on operational excellence; an international entrepreneur; a prolific writer; and a sought-after strategist, consultant, and speaker with engagements around the world. His book, "State of Readiness" (May 2017) has been well received and endorsed by business leaders from highly respected companies – with operations around the world and across industries – and promises to be a definitive work on the field of Operational Excellence.
With over 30 years of experience in international business and operations, he is routinely called upon to offer guidance to C-suite and senior executives and business-operations and -improvement specialists who wish to improve the overall efficiency and effectiveness of their organizations. He is highly valued for his ability to provide strategic insight and tactical analysis—and to convert these thoughts into reality by successful engagement and execution.
تنظيم

تأسست ( شركة بروميديا العالمية للدعاية والإعلان والنشر والتوزيع ذ.م.م ) سنة 2002 ومقرها دولة الكويت وهي من الشركات الكويتية العاملة في تنظيم وإدارة المعارض والمؤتمرات والمهرجانات ذات الطابع المحلي …
---
{{ dialogMsg }}
OK