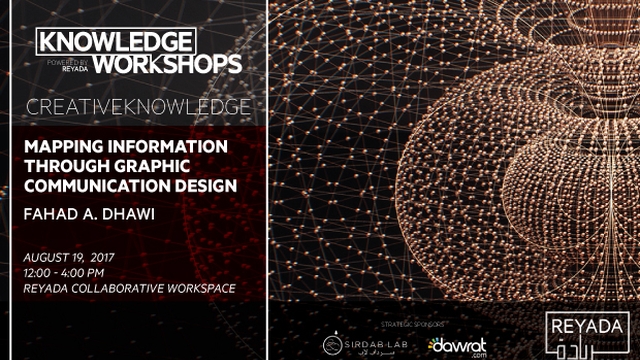 Mapping Information through Graphic Communication Design
مغلق
لا يوجد فترات متاحة لهذه الدورة.
نبذة عن الدورة
Course Overview:
Learn how to break down complex texts through information design techniques for simple and effective communication
Are you a graphic or a visual designer who needs to develop certain information design skills? Are you an individual who is looking for efficient ways of simplifying and mapping information to help you with the arrangement of complex texts within various work environments? Then this workshop is for you!
There are tons of problems caused by miscommunication. One of the most significant ways of developing clear communication to an audience is by simplifying excessive data. This workshop will help you understand how to break down complex texts through information design techniques to communicate simply and creatively - one of them is 'concept mapping'. In this workshop you will review an excessive amount of existing mapping visuals to understand how designers communicate clear information through simple and creative illustrations, charts and diagrams. You will also be exposed to a large amount of data while learning how to intake, engage, organize, summarize and arrange such information and interpret it into your own understanding through design-related strategies and graphical representations. You can bring in your own data and work on it during the session. The outcome of the workshop will help you develop efficient mapping skills to simplify communication and hence document and store data creatively and efficiently.
Note: there will be intensive sketching and mapping throughout the session. It is advised to bring in your MacBooks (with Adobe Illustrator installed) (if applicable) for the later stages - this is to transform the mapping sketches into digital formats.
Biography
Fahad A. Dhawi is a current Ph.D. candidate at Central Saint Martins. Dhawi received his B.A in Graphic design (Cum Laude) in 2009 with a minor in Communication from the American University of Kuwait. He later received his M.A in Graphic Design (Distinction) in 2012 from Coventry University in the UK. Dhawi's on-going practice-based research project highlights the importance of Arabic Typography and Graphic Communication within education and how teaching Arabic can be further 'simplified' through a new creative pedagogy approach. His current research employs an expressive approach to facilitate visual language learning and explores harmonious relationships between visual design and language through bilingual (Arabic-English) communication design.
Contact
Instagram: @PhahadAli
Twitter: @PhahadAli
Strategic Partners: Dawrat and Sirdab Lab
Workshop Tickets are non-refundable.
---
دورات مشابهة
تنظيم

Reyada is a collaborative workspace aimed at providing for the rising generation of innovative thinkers. Our workspaces are designed to promote connectivity, enhance creativity, and aid the growth of its …
---
{{ dialogMsg }}
OK