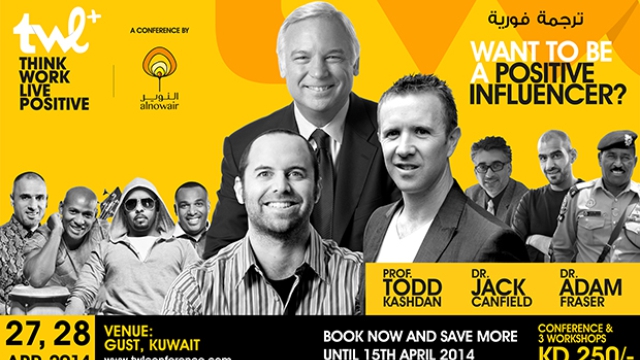 مؤتمر فكر اعمل عيش بايجابية (GOLDEN PASS)
مغلق
لا يوجد فترات متاحة لهذه الدورة.
نبذة عن الدورة
"WITH A POSITIVE ATTITUDE SIMPLY WE CAN LIVE LONGER, HAPPIER, HEALTHIER, MORE SUCCESSFUL LIVES… AND WHO DOESN'T WANT THAT?!"
The Think Work Live Positive Conference and Workshops' will share with you the benefits of cultivating a positive attitude. It will give you tools to create a more positive environment in your thoughts, at work and life in general, and help you to become a Positive Influencer to others.
THE SPEAKERS
DR. JACK CANFIELD
Seminar - The Power Of Focus (10:30 am - 11:15 am - Apr 27)
Workshop - Power of A Positive Focus (04:00 pm - 07:00 pm - Apr 27)
The beloved originator of the CHICKEN SOUP FOR THE SOUL® - New York Times #1 Bestselling series and known as "America's #1 Success Coach,"
DR. ADAM FRASER
Seminar - The Third Space (9:15 am - 10:00 am - Apr 27)
Workshop - Aftershock - How to be a Positive Influencer on your Environment (Apr 28 - 09:00 am - 12:00 pm)
Dr Adam Fraser is a human performance researcher and consultant who is at the forefront of how neuroscience and positive psychology can be used to improve work place performance. The only keynote speaker in the world to have had the impact of his keynote presentation measured in a University study (It improved the behaviour of attendees by 41%).
PROF. TODD KASHDAN
Seminar - Insights into Neglected Resilience (11:20 am - 12:05 pm - Apr 27)
Workshop - Become psychologically flexible (02:00 pm - 05:00 pm - Apr 28)
Todd Kashdan uses cutting edge science to help people function optimally in life and business. Holding a Ph.D. in clinical psychology, he has published 125+ peer reviewed journal articles on how to foster and sustain happiness and meaning in life, strength use and development, stress and anxiety, mindfulness, gratitude, social relationships, and self-regulation.
ALSO FEATURING
MIAMI THE BAND (27 Apr)
Miami the Band will perform an inspiring song about having a positive attitude specially made for Alnowair and the Think Work Live Positive Conference
DR. ABDULAZIZ ABAL (27 Apr)
Dr. Abdulaziz Abal is a true role model and an inspiration for positive living to his students at AUK, his research on teaching and learning in virtual environments has won many accolades around the world.
SALMAN ALNIJADI (27 Apr)
When not making people laugh and spreading a positive attitude around him, Salman is the host of Kuwait's famous radio program Nagham Al-Sabah on Marina FM 88.8
MOHAMMED BILAL (27 Apr)
The loved, the respected, the revered, the hero and inspiration to many. His charisma, and most of all his unbiased helping and joyful nature has made him one of the most loved police officer in Kuwait.
VISIT TWLCONFERENCE.COM FOR MORE INFORMATION
BOOK NOW AND AVAIL A DISCOUNTED COST TILL THE APRIL 15
Who should attend this course?
Are you an entrepreneur, a business executive, an educator, an H.R. specialist, an organization leader or just a parent? If you are then Think Work Live Positive Conference and Workshops is for you. The TWL Plus conference will provide insights on how we can alter our everyday lives for the better and through practicing certain tools and techniques positively affect the behavior and attitude of those around us. The Think Work Live Positive is for you if the decisions that you make affect those around you. As any individual you have the capability of affecting the lives around you. It has been proven that even the most introvert person has the propensity to influence at least 10,000 people in their lifetime. This proves that no matter from which walk of life we are we have the capability to leave a mark and a positive impact on our surroundings.
تنظيم

هي حركة هدفها نشر الوعي لرؤية الأمور بطريقة إيجابية في الكويت. نحن نؤمن بأنّ الإيجابية هي أسلوب حياة وطريق لبلوغ السعادة والرضى. وإحدى أهم النتائج التي توصّلت إليها البحوث العلمية …
المدربين
---
{{ dialogMsg }}
OK