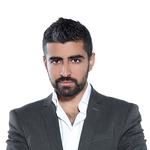 عبدالعزيز العوضي
المدرب من الكويت
عـن
Certificate: Architect, 2009. MBA 2015.
In 2012, Abdulaziz spent a short time in Qatar to attend a design convention. In his free time he visited the Islamic Art Museum, where he roamed around looking at the old artwork. At one point, he came to the oldest Arabic handwriting section, which goes back to 1600 years ago. He never knew his interests in Arabic calligraphy. However, he had never seen anything as stunning as the old hand script, "Old Kufi". He never thought calligraphy would be the hidden gift in him, but there it was, presenting itself to him. At that particular moment, he felt a strong beat in his heart. The old calligraphy truly touched him. It took me through time to the long-ago past, like a time machine: he was there, living their lives and dressing like them. It took him one moment only, one blink of an eye. He found a beauty that he had never seen before.
After taking a couple of photos for an old Quran, he tried to read it, but found some trouble reading it. The script took his attention through its stiffness, randomness, and the dispersed letters. He found the script very ravishing through the tight voids between the letters, and the exaggerated length in some letters; like "Kaf, Dal, and Saad". He also found the beauty in the basic handcrafts in writing this script.
This interest made Abdulaziz to mimic the script through taking some letters from this old Quran and arranging them to generate his name. After returning to Kuwait, he started to look for the basics of this script in the Internet, which was hard to find this kind of neglected script. He started to visit public libraries, and studied the script until he became familiar with it.
He started writing his friends and relatives names, he found a great motivation from them. By then, he started writing some shot Ayahs, and learning how to create papers and age them. By then, he realized how much he became attached to the Old Kufic script, and spent lot of time, effort, and money on it.
Abdulaziz started "Design Kaaf" by doing artworks. He found out that very niche people are interested in acquiring artworks and it is hard to sell. He then started doing the old Kufi in accessories; necklaces bracelets, cufflinks, key chains, etc. By that, he started selling more of his artworks. In December 2013, Abdulaziz Participated with 2 artworks in Kuwait International Islamic Art Forum and he participated in many other exhibitions.
In 2014, Abdulaziz stated giving workshops in Kuwait University, and some free gatherings in coffee shops for calligraphy workshops with three other calligraphers. He gave a workshop in Jeddah, Saudi Arabia. And he also sold his first wholesale there.
In February 2015, Abdulaziz won a competition in a limestone engraving that was given to Kuwait Amir, Sheikh Sabah Al Sabah. In August, he held the third place in Abyaat competition for Islamic calligraphy along with two famous calligraphers.