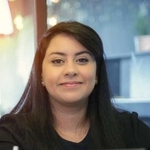 فاطمة العوضي
المدرب من الكويت
عـن
Education:
Certified trainer in TESOL and TESL (MEG, Chicago)

Bachelors of English Language and Literature (The Open University, UK)

Masters in International Education (University of Leicester, UK)
Career:
Interpreter (and translator) of The Govt. of Mubarak Alkabeer. (Kuwait)

Translator at the Council of Ministers. (Kuwait)

TESOL and French language instructor at Expression Institution for learning (Kuwait)

TESOL instructor at English Skills school for training (Kuwait)

TESOL and Spanish language instructor at Elite institution (Kuwait)

English instructor at the Ministry of Education (Kuwait)
Skills and Resume
Specialized in TESOL, teaching English as a second language, IELTS, TOEFL tests preparations, English for adults.

Specialized in English conversation classes and teaching accents and pronunciation.

Training students for university aptitude tests.

Taught courses of writing skills, French, Arabic, English and Spanish languages.

Taught an Arabic course for Albisher & Alkazemi non-Arabic speaking managers.

Taught English for professions such as Engineering, Law, Medicine, and Design.