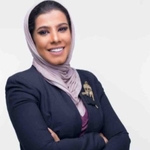 رحاب الطواري
المدرب من الكويت
عـن
Founder of RT consulting and training solutions co.
I'm a dynamic professional with accumulated experience gained from my years in the Banking and educational sector especially in the Learning & Development field.
My skills were developed while working for leading organizations such as :
• Human soft , and its subsidiaries • AUM the American University of the Middle East • Commercial Bank of Kuwait • Boubayn Bank
In those organizations we trained new employees and led them by creating the right moral in the induction programs, advanced programs and other activities which reflect the organization values, strategy and vision.
I strive on challenging projects and learning experiences. And very passionate about customer service, building relationships and sustainable development which has been my key for success. Customer Service is one of the main areas that I focused on during the last 3 years while delivering training programs for the trainees within each organization & I kept developing my knowledge and skills in this fast moving field and lately I became certified by Achieve global in Customer Service.
More about me :
MBA holder - GUST
Bachelor in psychology - Kuwait university
Trainer - by Achieveglobal -Customer Service .
11 years of experience in Learning & Development in privet sector
Vis-President - GUST Alumni Association Board 2016 - current
Co-active Coach - CTi Dubai